Get the Medical SEO Guide to Surviving and Thriving After a Pandemic
You want your medical website to show up at the top of Google's search results. Why? Because you know that's where people go to find answers to their medical questions, especially during a pandemic like Covid-19.
Studies have shown that most searchers will click on the first 3 results on the ranking page. In our free guide we'll answer the following questions: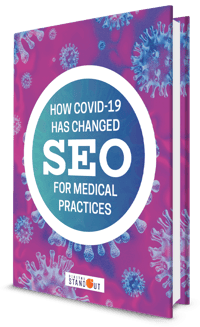 What is Medical SEO?

Why is Medical/Healthcare SEO Important?

How Much More Important Is Your Website?

Why Your Website Needs Local Content More Than Ever?

How to Use Google My Business to Turn Visitor Traffic into Patients?

How to Use Content to Boost Your Practice's Rankings?
If you're like most medical professionals, you've either struggled to remain open or are struggling to reopen your practice after the pandemic.



Patients are either nervous to visit a medical facility for fear of contracting COVID-19 or they have moved on to other specialists who managed to reopen first. Now, you're left wondering what you're going to do to market your medical practice post-COVID-19.
With people spending more time at their homes, they have relied on the Internet more over the last year than ever before. THAT is why internet marketing is now the most effective form of healthcare marketing.
To reach prospective patients, you must market your medical practice online. The first step is by downloading this guide to learn more!
A worldwide crisis has instantly propelled website content to new heights. Is your medical practice ready?